Hallo meine Liebe,
heute ist Ostersonntag, der erste Sonntag im Monat und das bedeutet Zeit für viele Inspirationen des Creation Station Designteam. Das Thema heute "Sweet Treat Packages" – also Verpackungen für Süssigkeiten. Und da passen meine Oster-Mitbringsel doch perfekt zum heutigen Tag und diesem Motto.
today is Easter Sunday and in addition the first sunday of the month, so that we have a lot of inspirations of Creation Station Designteam. The todays topic is "sweet treat packages". My Easter Presents match perfektly for today and this theme.
Gleichzeitig ist es heute meine Premiere, denn dies ist mein erster Post auf meiner neuen Website – whoohooo. Vielleicht hast Du in den vergangenen Tagen schon mal reingeschaut, wenn nicht freu ich mich wenn Du dich etwas umschaust und mir ein Feedback da lässt!
As you may have recognized it is the first post on my new website – whoohooo. I would like to invite you to have a look around and I am looking forward to your feedback!    
Nun zu meiner Oster-Verpackung für Süssigkeiten. / Now lets see my sweet treat package for Eastern.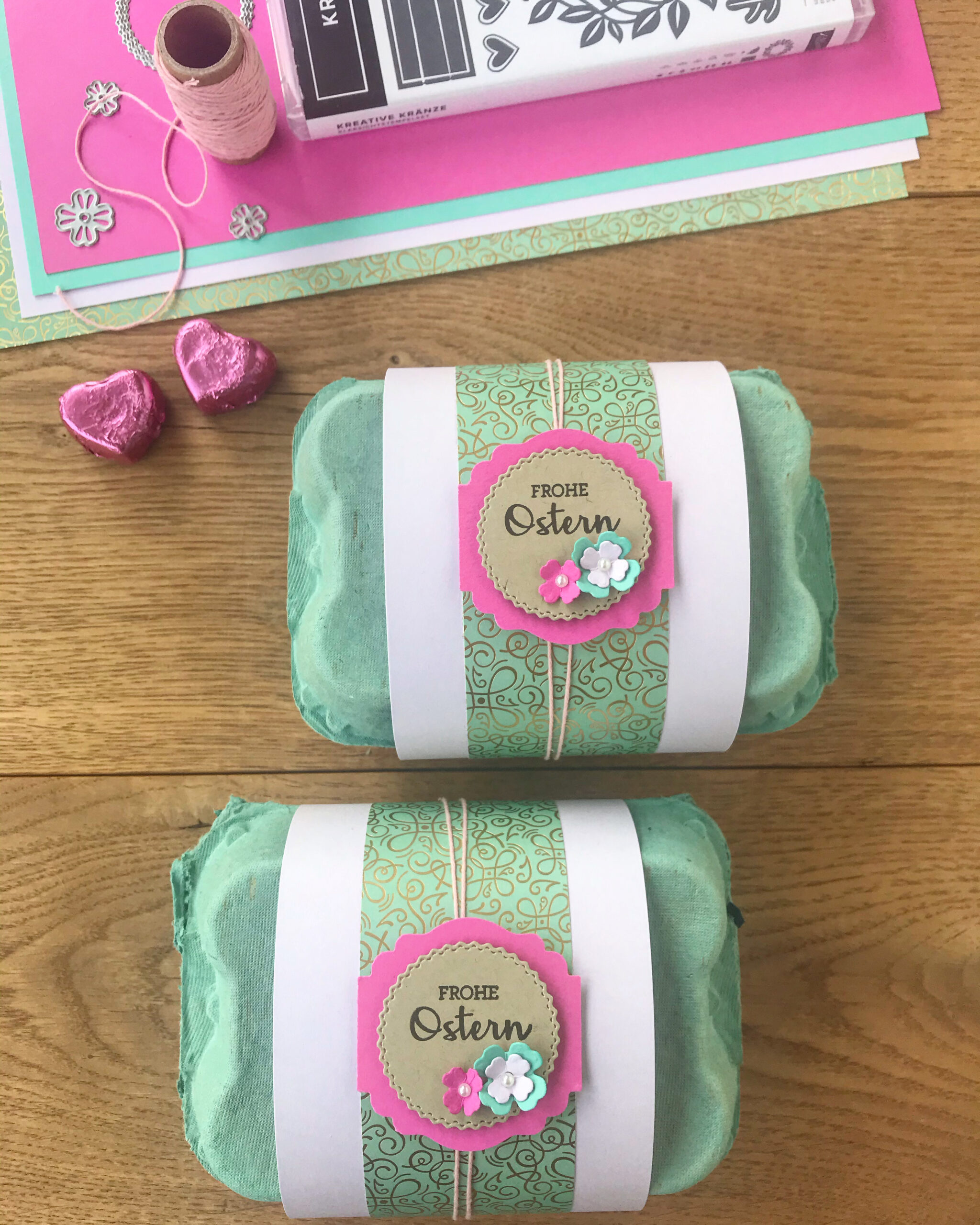 Ich habe kleine Eierkartons in mint genutzt und mit einer passenden Banderole aufgehübscht. Diese lässt sich ganz einfach zur Seite hin abziehen. Das Designpapier passt perfekt zum Karton und mit dem goldenen Elementen wirkt es richtig edel (kleiner Tipp: das DP gehört zu den aktuellen Auslaufprodukten und ist sogar reduziert im Shop, also sichere Dir es solange es noch verfügbar ist)
I used small egg-cartons in light green and decorated them with a paper band. This can be removed easily. The Designpaper fits perfectly to the carton and with its elements in gold it is really a highlight. (currently you have the chance to get the paper discounted in my Onlineshop)
Es braucht gar nicht viel und die Oster-Überraschung ist fertig. Den Stempel und auch die Blümchen findet ihr im Produktpaket "kreative Kränze".
You do not need a lot and the small Easter present is ready. The stamp and also the flowers can be found in the product bundle "arrange a wreath".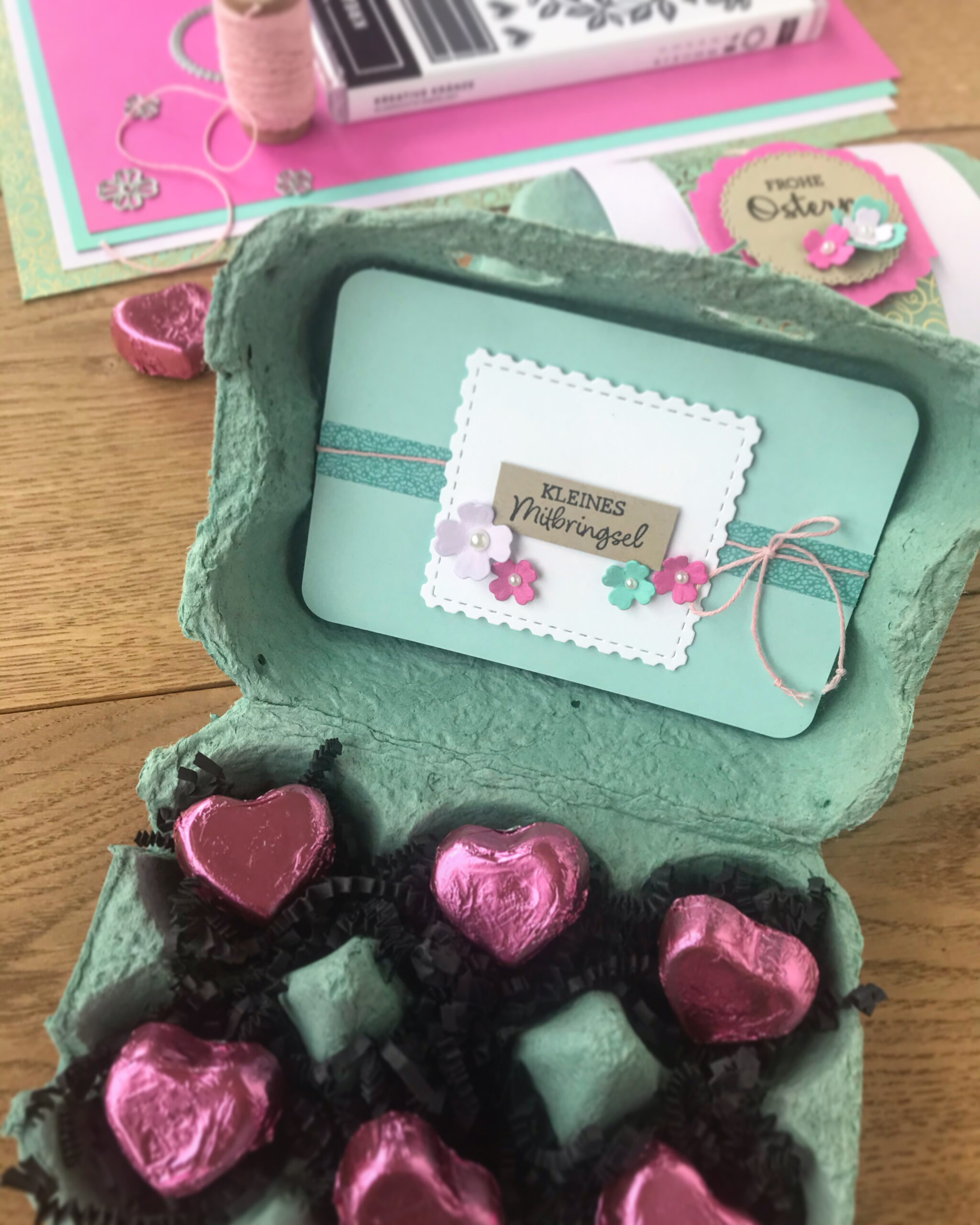 Auch innen wartet ein kleiner Gruss und natürlich süsse Schokoladen-Herzchen.
In the inside I also reated a greeting and for sure we have sweet treats chocolate hearts.
Jetzt bin ich gespannt wie das heutige Thema von meinen Demokolleg*innen umgesetzt wurde. Weiter geht es zur lieben Denita, kommst Du mit?
Now I am exited how my collegues have interpreted the todays topic. Let´s see what my wonderful collegue Denita has prepared for todays hop, do you join me?
Weiter gehts zu/ Next up Denita
Ich wünsche Dir ein schönes Osterfest und eine erholsame Zeit im Kreise deiner Liebsten! Lass es Dir gut gehen!  I wish you happy Eastern and a joyful time with your family! Enjoy the day!
Liebe Grüße und Kussi, Kerstin ♥
Melde Dich sehr gerne bei mir, wenn Du Fragen zu den verwendeten Produkten hast.